All you need to know about how the shipping works with SecondFlor.
Shipping IN THE UNITED STATES
[Alabama | Arizona | Arkansas | California | North Caroline | South Caroline | Colorado | Connecticut | North Dakota | South Dakota | Delaware | Florida | Georgia | Idaho | Illinois | Indiana | Iowa | Kansas | Kentucky | Louisiana | Maine | Maryland | Massachusetts | Michigan | Minnesota | Mississippi | Missouri | Montana | Nebraska | Nevada | New Hampshire | New Jersey | New Mexico | New York | Ohio | Oklahoma | Oregon | Pennsylvania | Rhode Island | Tennessee | Texas | Utah | Vermont | Virginia | West Virginia | Washington | Wisconsin | Wyoming]
Free delivery and preparation for all orders above $350 excluding taxes. A flat rate of $35 will be applied to all orders under $350 excluding taxes.
These conditions are valid only for Contiguous United States. We do not deliver to Alaska, Puerto Rico, Hawaii, and parts of the United States not accessible by land such as Point Roberts (WA), Elm Point (MN) and Northwest Angle (MN).
When you create an account on secondflor.us, your request may not be approved. This means that your zip code is one of the areas excluded from sale, as the carrier does not deliver to your area. If you have other business locations, feel free to check if they are eligible for shipping. If necessary, you can contact us here.
Delivery TIME
Please note that delivery times are given for information only and are not binding. All products available on the website are in stock. Orders are prepared as soon as possible in our warehouse. In Contiguous United States, we deliver within 24-96 hours (excluding weekends and public holidays). You will find the details of our delivery times in the map below. We draw our customers' attention to some particularities that can cause extended shipping times: hard to reach areas, remote areas, meteorological complications, busiest periods…
No claims can be accepted regarding delivery times.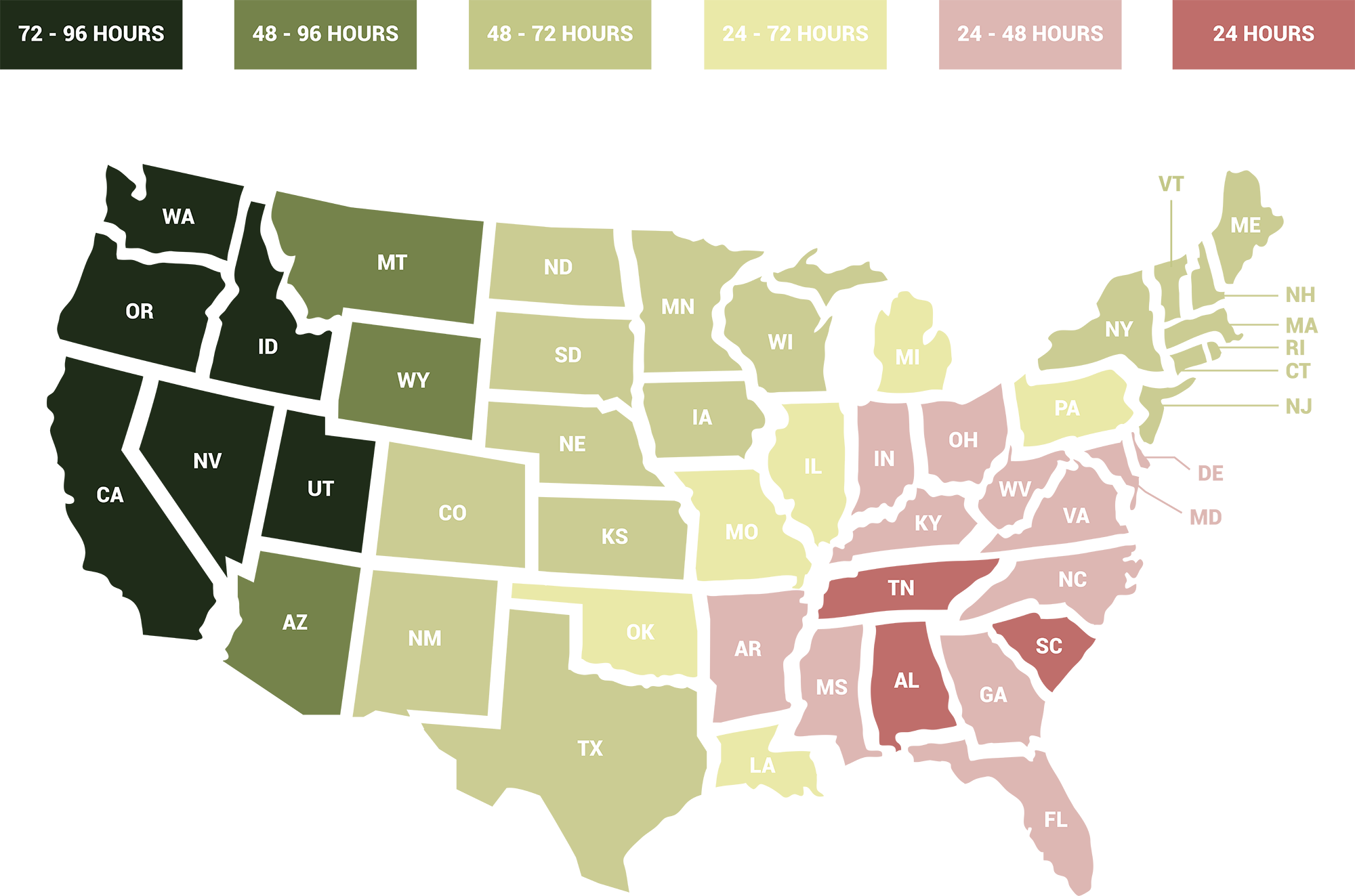 RECEPTION of the goods
Our deliveries are performed by one of our transport service providers, selected for their experience and conscientiousness. In every instance, the delivery ends at the door of the building. The driver doesn't deliver indoors or upstairs. You must be able to receive your products. If any anomaly is noticed (ripped film, damaged box), the driver will put it down on his delivery note. Please contact us as soon as possible if you want to make an appeal for the damaged products (not the packaging).
In every instance, do not hesitate to unwrap your package in front of the delivery person. Our after-sales service deals exclusively with receipts that have claims written on the delivery note and that have been sent to our customer service within the following 48 hours.

Our carrier shows up 3 times before returning your order to the warehouse. A delivery notification will be left in your mailbox. Please make sure to be present the next day. In case of delivery failure, if the customer is responsible, processing fees will be deducted from the refund of the returned products up to 20% with a minimum fee of $45.
CUSTOMER care
All claims can be made directly from your account, in the "QUALITY CLAIM" tab. No claim will be processed after a period of 14 days from the date your order have been marked as delivered. If these anomalies are due to transport, it is imperative to have notified written reserves on the carrier's voucher. Our team will process your request as soon as possible.
WE ONLY DELIVER to professionals
We do not ship to non-corporate clients. Therefore, we cannot ship to your individual clients or to an individual address. If we – or our carrier – notice that a delivery to an individual address was made, we retain the right to close your account without any delay.